RFID Systems for the Most Demanding Markets
For over 50 years, Balogh has catered to Manufacturers needs extensively! Most manufacturing facilities require RFID systems that are Industrially Robust meaning that they thrive in very harsh environments. The people that run these facilities will tell you that they have zero tolerance for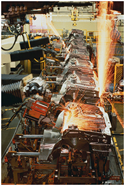 avoidable downtime. They need to trust that the components within their facility will function the way they need them to for a very long time. Understand that RFID systems are key enablers of many manufacturing processes throughout the world! These processes can NOT function without the RFID system working flawlessly everyday and every time! Balogh understands this fundamental and has dominated this space for many years.
Inductively Coupled Tags and Transceivers
One of the keys to our sustained success in this market is in the way we design our products to communicate and also power our Tags without a battery (passively). A passively powered Tag does NOT need a battery and thereby does not have to be maintained on a Preventive Maintenance schedule. The inductive field that our Transceiver creates is also used as a full duplex communication channel between the Tag and the host Controller. The inductive coupling acts as a "Force Field" protecting the data streams from environmental noise that could otherwise corrupt it causing undesired results and downtime.
Tremendous Controls Connectivity
Having a best-in-class RFID tagging solution for manufacturing environments is great but we want to take it a step further. We want to make the installation of our system a great experience as well. Considering that more than half of an RFID system's project budget is spent on set-up time, including the physical installation of Tags, Transceivers, Cables, Control Interface modules and writing the ladder logic in the host PLC that controls the data transmissions between our Control Interface Modules and Tags; significant savings can be achieved if you can reduce the hours spent in this area. Our philosophy when we design these Control Interface Modules is that we need to make them as EASY to integrate and work with as possible. The KISS methodology is embraced at Balogh and we have found over the years that a simple approach to the interface saves time and therefore money.
Not only are the Interface Controllers easy to work with; we have models available to integrate to all of today's and even yesterday's most common Industrial Networks. We can connect via parallel I/O, serially or to FieldBus architectures like DeviceNet™, ControlNet™ and EtherNet/IP™, to GE GeniusBus™, ProfiBus™ and others as well. If you would like to learn more about our connectivity please check out this page.